Bluefin Orca LED Orca the Bronze Surface Mount solution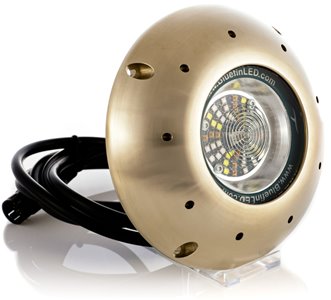 The Orca series of Bluefin LEDs with bronze body, gives off a brightness; amazing for a surface mount luminaire.
Description
Bluefin LED's Orca series is at the top of the Bluefin LED surface mount headlights range. It delivers 14,500 Lumens which represents a portentous brightness for this category.
Unlike the Piranha series, the construction is made of AB2 bronze, which makes it even better against impacts. However, on boats that are very susceptible to galvanic currents, it will be necessary to often check the state of the dissipation zinc or opt for the Piranha series. Another element of comparison with the Pirhana series is the diameter of the hole to be drilled on the boat that goes from 15 mm (Piranha series) to 30 mm (Orca series).
The Orca series is therefore oriented towards customers who do not want to give up the simplicity of installation of surface mount headlights, but at the same time want the maximum possible scenic impact on their boat.
L'Orca makes use of all the exclusive Bluefin LED technologies that have made excellence in this production, such as the multi-compartment sealing system, which places a dense series of barriers to prevent the infiltration of moisture from the bilge.
The Orca series is RINA approved with the "Builtin Driver" solution, protection against polarity inversion and an active thermal control able to calibrate the brightness if the heating exceeds a certain threshold.
The colour of the light is available in diamond white, cobalt blue, emerald green or the colour variation model.
Prices
280-2100

Bluefin LED Orca O20 SM - White - 14500 lm

1.086,00

€

280-2110

Bluefin LED Orca O20 SM - White - 14500 lm

1.086,00

€

280-2120

Bluefin LED Orca O20 SM - White - 14500 lm

1.086,00

€

280-2130

Bluefin LED Orca O48 SM - Variation - 14500 lm

1.769,00

€
Prices VAT Included
Prerogative
Suggested for boats up to 30 mt.
Type approval by RINA.
Bulkhead installation
Requires a through-hole of only 30 mm.
Max Lamp 16,000 Lumen, Operating Brightness 14,500 Lumen. For the variation model 7,000 Lumen.
Beam 65°.
For 24 Vdc systems only.
Absorption 5.1 A
Life expectancy 50,000 hours
Waterproof, over IPx8.
Thermal protection, supercharging and polarity reversal
Highly impact-resistant optical quality polymer lenses
AB2 bronze frame
Diameter 140 mm, thickness 32 mm, weight 2,3 kg.
Equipment
Gel connector, fuse holder, 2 fuses, screws and template.
Accessories
Prices VAT Included