Nyne NB-200 Bluetooth Portable Speaker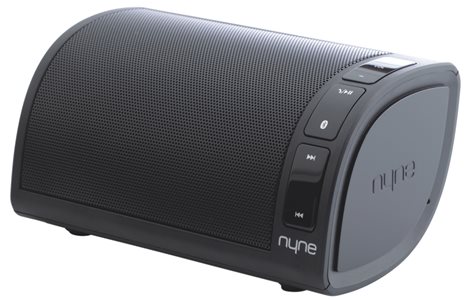 Discontinued
Portable Bluetooth speaker amplified Nyne NB-200, small size, functionality; hands-free, installable on the handlebar of the bike.
Description
The Nyne NB-200 is a bluetooth powered portable speaker, so small in size that it can be put in your bag, on your bike handlebar or wherever you want. It is robust, able to fill in the details of the musical frequencies and convincing in the bass level.
The Nyne NB-200 is the result of the most advanced acoustic technologies combining an exclusive high fidelity loudspeaker and an innovative passive radiator positioned inside an airtight structure, so it is able to fill the sound in a room, but at the same time is small enough to fit into a handbag.
The Nyne NB-200 portable speaker is also capable of operating as a powerful hands-free speakerphone so you can manage your phone conversations through its advanced speaker and a sensitive microphone with noise cancelling filter.
It has an 800 mA/h lithium battery inside, which gives it 5 hours of continuous use and is rechargeable through the common micro-USB connector. Connects via Bluetooth or via the 3.5 mm Aux-in input. It comes with two supports for the bike's tubulars or for any other tube with a diameter between 2 and 3 cm.
The Nyne NB-200 portable speaker weighs 365 g and is 145 mm wide, 74 mm high and 86 mm deep.
Prices
240-6210

Nyne NB-200 Bluetooth Portable Speaker

109,00

€

GTIN13:

0850399004024

; Weight:

0.5

kg; Dimensions:

22.5

x

14

x

10.3

cm
Prices include VAT