Boss Marine MRGB65 nautical speakers with LED lighting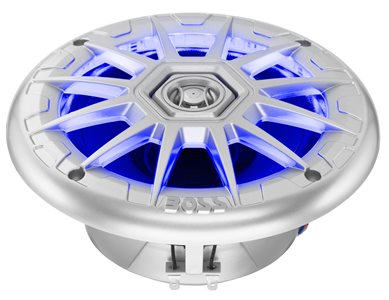 The MRGB65 Boss Marine marine speakers help to refine the aesthetic details of your boat, spreading LED light and great music.
Description
The nautical loudspeaker is one of the best points of light to diffuse a truly engaging LED background lighting.
The MRGB65 "Boss Marine" loudspeakers are equipped with a sophisticated LED system that allows countless variations of light effects.
You can decide for a sober lighting with your favorite color, or choose from several games of light really scenic.
Each pair of MRGB65 "Boss Marines" comes with a synchronous driver hub capable of driving the two speakers and if we want to control more speakers, we may decide to control them separately, or all together by connecting the drivers in cascade.
From the remote control we can adjust the light intensity, choose the color, or select a light game from 19 modes or simply choose the Demo function that allows you to scan all the modes in sequence.
From the remote control we can also vary the speed of execution of the modes, or turn the lights off or on again returning exactly to the last mode set before turning off.
The MRGB65 "Boss Marine" loudspeakers enjoy the high-quality sound qualities of the entire "Boss Marine" line. They express good power (200 watts peak), excellent frequency response and enviable aesthetic lines.
The MRGB65 are available in two versions, one in white (model MRGB65) and one in silver (model MRGB65S).
Prices
240-3659

"Boss Marine MRGB65 Couple of LED Speakers, White

179,00

€

GTIN13:

0791489121880

; Weight

:

3

kg; Dimensions:

21

x

21

x

25

cm

240-3660

"Boss Marine MRGB65S LED Pair Speaker, Silver

179,00

€

GTIN13:

0791489121897

; Weight:

3

kg; Dimensions:

21

x

21

x

25

cm
Prices include VAT
Prerogative
LED light for courtesy lighting and entertainment.
19 selectable light effects.
20 static colours.
10 adjustable speeds.
Light intensity adjustment on 5 levels.
Demo mode.
Stores the last mode when switching off.
Peak power 200 Watt.
Frequency response from 70 Hz to 20 kHz, ?1 dB.
Sensitivity 88 dB.
External speaker diameter 194 mm, hole 142 mm. depth 65 mm.
Driver dimensions 90 x 50 x 23 mm.
Equipment
LED driver (RF Sync Receiver Hub).
Infrared remote control.
Connecting cables.