VHF Marine Antenna: Scout KS-23A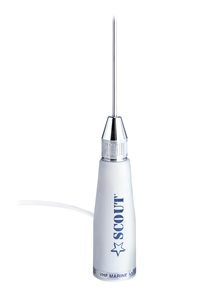 Scout KS-23A: Marine VHF antenna 90 cm, Stainless Steel Stylus, 3dB gain, standard 1"x14 mount.
Description
The 90 cm SCOUT KS-23A marine VHF antenna is well suited for small boats and inflatable boats that need a light, flexible, durable and good performance antenna.
The stainless steel stylus gives flexibility and strength, while the aesthetic lines are attractive and non-invasive to better adapt to the design of small boats.
Technical characteristics
Frequency 156-162 MHz
Impedance 50 ohms
Configuration 1/2 ?
V.S.W.R.
Vertical Polarization
Gain 3 dB
Applicable power 50W
DC ground protection
Stylus material Stainless steel
Cable 5 m RG 58 CU MIL
Mounting 1 x 14 threads
Height 90 cm
Weight 0.23 kg
Prices
130-0914

Scout KS-23A VHF 3dB 90 cm - Dashboard - Steel

48,00

€

Weight:

0.5

kg; Dimensions:

100

x

7

x

4

cm
Prices include VAT
Prerogative
Extra flexible
Maximum lightness
5 m coaxial cable RG 58 CU MIL
5 year warranty
Accessories
Prices include VAT