GR9200 GME: Stereo with CD, MP3, SD, Usb, iPOD player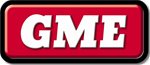 Discontinued
The GR9200 series is available in both flush-mounting and bracket-mounting versions, with removable front panel and fully protected cover.
Description
Able to introduce on your boat the maximum of HiFi technology and with total flexibility on the type of digital support. In fact, in addition to accepting the common CD, the GR9200 series is equipped with an SD card reader, and through the USB input you can connect virtually any type of media.
In addition, the optional GME LE023 cable can be used to integrate all iPod features.
Prices
240-1160

GME GR9220W Recessed MP3/SD/Usb/iPod, White

349,00

€

240-1170

GME GR9220B Recessed MP3/SD/Usb/iPod, Black

349,00

€

240-1180

GME GR9240W MP3/SD/Usb/iPod Bracket, White

418,00

€

240-1190

GME GR9240B MP3/SD/Usb/iPod Bracket, Black

418,00

€
Prices include VAT
Equipment
Full protection cover and wiring (+ bracket for GR9240 models)
USB to L adapter
Screws