GD9600 GME: Combined device including DVD and Stereo player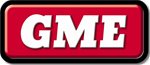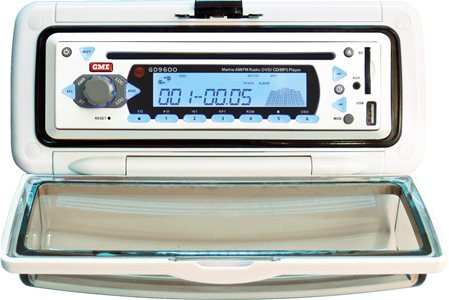 Discontinued
The GD9600 series is available in both flush-mounted and bracket-mounted versions. DVD player with video output, removable front panel, MP3 from CD, SD or USB from iPod optional.
Description
There is no doubt that today the audio system merges more and more with the video system of the boat, thus ensuring the viewing of movies with the help of a quality audio system and customizable.
For this reason GME has studied a combined solution, including in a single device, a valuable DVD player and an advanced stereo, equipped with MP3 reading on CD, USB, SD card or audio input, as well as being a convenient radio.
Like all GME products, it boasts superior reliability and offers appropriate water protection. In addition, the GR9600 series, via the optional GME LE023 cable, can be controlled from an iPod.
Features
Prices
240-1200

GME GD9620W Recessed DVD/CD/MP3/SD/Usb, White

371,00

€

GTIN13:

9319493205498

; Weight:

3

kg; Dimensions:

34

x

27

x

15.8

cm

240-1210

GME GD9620B Recessed DVD/CD/MP3/SD/Usb, Black

371,00

€

GTIN13:

9319493205504

; Weight:

3

kg; Dimensions:

34

x

27

x

15.8

cm

240-1220

GME GD9640W Bracket DVD/CD/MP3/SD/Usb, White

438,00

€

GTIN13:

9319493205474

; Weight:

4

kg; Dimensions:

36.5

x

28.5

x

16.2

cm

240-1230

GME GD9640B DVD/CD/MP3/SD/Usb Bracket, Black

438,00

€

GTIN13:

9319493205481

; Weight:

4

kg; Dimensions:

36.5

x

28.5

x

16.2

cm
Prices include VAT
Prerogative
DVD player with video output to display
USB port on front panel
AUX input on front panel
SD card slot on front panel
iPod features can be controlled from the front panel, but only via the optional LE023 adapter.
Removable front panel
4 x 45 Watt (Peak)
Waterproof (IP 56)
Multiple installation solutions
Equipment
Infrared remote control
Angled USB adapter
Wiring kits
Full protection cover (+ bracket for GR9640 models)