CruzPro GD10: fuel vapour detector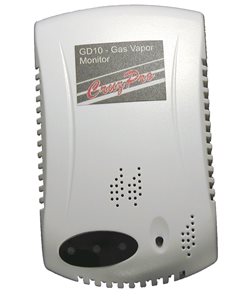 Fuel vapour detector, CruzPro GD10, integrated alarm, status LED, LPG, petrol and naphtha vapour detector, white, small size.
Description
The CruzPro GD10 can detect fuel vapours (petrol, naphtha and LPG) and emits an alarm when they exceed 25% of the concentration required for an explosion. The box is attractive and well finished with minimum dimensions (104 x 70 x 40 mm). The GD10 uses switch technology to absorb only 0.1 Ampere at 12 VDC.
Technical characteristics
Power supply voltage: 10.5 to 16 Vdc
Absorption: less than 0.10 Ampere
Sensitivity: Better than 25% LEL (Lower Explosive Level)
Operating temperature: 0 to 50 °C (32 to 122 °F)
Alarm: Integrated by 85 dB
Sensor: integrated sensor for LPG, Diesel, Petrol
Dimensions: 70 x 104 mm
Prices
034-8100

CruzPro GD10 - Gas Detector (no Led)

161,00

€

Weight:

0.2

kg; Dimensions:

22

x

10

x

6.5

cm
Prices include VAT
Series
A series of original and useful tools contained in a box that is also suitable for installation in the engine room.