Navman Autopilot G-Pilot 3100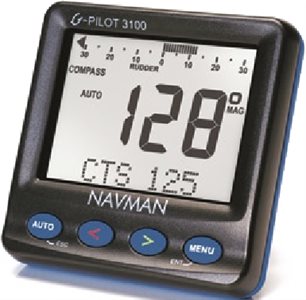 Discontinued
Autopilot Navman model G-Pilot 3100, Control Box, Fluxgate Compass, Gyro Compensator, Bar Angle Sensor.
Description
The G-PILOT 3100 is a sleek, compact screen with giant characters, adjustable backlighting and a convenient bar graph at the top of the screen that can be adjusted to indicate rudder angle or course error.
Designed for ease of use, the unit has only four buttons that give access to all system menus. At the bottom of the screen, a convenient information area has been added for displaying NMEA and NavBus information as well as for displaying alarms and configuring menus.
Screen 61 x 82 mm (2.4 x 3.2") with large characters. Completely watertight front panel. Supplied as standard with 16.4 ft (5 m) cable and protective cover. Bar graph to display rudder feedback or course error. NMEA / NavBus communication with other instruments.
G-PILOT solid state gyro compensator supplied as standard for maximum course stability
Steer the boat according to the wind angle, fluxgate compass or GPS waypoint at the touch of a button
Avoid obstacles at the touch of a button
The Auto Tack function turns the boat forward at a preset angle.
Auto Cal function allows automatic correction of deviation errors
Interfaces with both Navman's exclusive NavBus protocol and the NMEA 0183 industry standard
The information is clearly displayed at the bottom of the screen
The self-diagnostic function continuously checks all components of the G-PILOT
Prices
080-3100

Navman Autopilot G-Pilot 3100 Complete

1.903,00

€
Prices include VAT
Equipment
Display
Control box
Gyro Compensator
Bar angle sensor