GME ET100 Led Flashlight Float for Emergency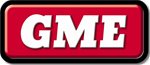 Discontinued
GME ET100 Floating LED torch for emergency and signalling, it can be recharged by hand, it can recharge the smartphone, compass, SOS, whistle and more.
Description
The GME ET100 is a torch with the only prerogatives, able to recharge itself, to signal an emergency situation in different ways and to recharge other accessories such as smartphones, tablets and other small devices.
The GME ET100 is in fact recharged through a particularly efficient rotary movement that, if the battery is completely discharged, with a few seconds of action you will have autonomy for a few minutes.
Via a USB output, it can charge other devices, such as smartphones or tablets. In this way we can extend the autonomy of our smartphone, a particularly important feature especially if we were in an emergency situation and the batteries of our mobile phone were discharged.
It is made of sturdy yellow polycarbonate with high visibility and in case of use at sea you will never lose! In fact, the ET100, in addition to being waterproof, floats with the light upwards.
An emergency situation is indicated by a flash, SOS, whistle or signal mirror function. We could orient ourselves through a small compass and to make sure we don't miss anything, the ET100 is also equipped with a knife, a can opener and a sturdy bottle opener.
The internal battery is 850 mAh lithium and allows a really amazing autonomy. To recharge it, in addition to the ecological rotary movement, it has a USB input to be fully charged by any charger with this output.
Prices
034-3100

GME ET100 Multifunction Emergency Torch

74,00

€

GTIN13:

9319493237253

; Weight:

0.7

kg; Dimensions:

28

x

11

x

9.5

cm
Prices include VAT
Prerogative
Led torch with selectable brightness up to 150 Lumens.
It recharges ecologically with a rotating movement.
From USB it can charge smartphones, tablets and other devices.
Waterproof (IPx7) and floats with the light upwards.
Robust construction and high visibility yellow.
It can also be charged from any USB port.
Powerful long-life lithium battery (850 mAh).
SOS and flash function.
Whistle and mirror for signals.
Orientation compass.
Knife, can opener and sturdy bottle opener.
Transport strap.
Maximum diameter: 6.6 cm. Length 26 cm. Weight 433 gr.