Kestrel Drop D3: professional data logger for your smartphone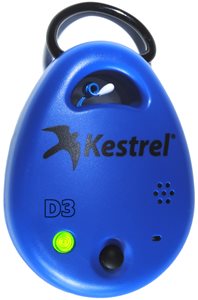 The Kestrel Drop D3 data logger turns your smartphone into a powerful weather station to take readings wherever you are.
Description
The Kestrel Drop D3 is a powerful weather data logger that works closely with your smartphone or tablet, iOS or Android system.
The Kestrel Drop D3 can add great value to your device, making it a powerful professional weather station that can be used wherever you are.
There are so many weather data that the Drop D3 can process. All this data will be displayed by a very professional app able to compare numerical values, process graphs and enter alarms.
The Drop D3 data logger stores data continuously, can then be inserted into an environment or a package on the move, and then analyze the weather data at the destination.
The Drop D3 data logger is designed by Kestrel, a leader in precision portable weather stations and is built entirely in the USA. It is sturdy and resistant to falls (MIL-STD-810G), it is waterproof IPx7, very precise and minute as a keychain.
Prices
370-3330

Kestrel Drop D3 - Enviro Logger 0730 - Blue

283,00

€

GTIN13:

0730650001163

; Weight:

0.2

kg; Dimensions:

13.5

x

11

x

5.5

cm
Prices include VAT
Prerogative
Weather data that can be collected
Temperature
Humidity
Barometric pressure
Absolute pressure
Moisture content
Humidity ratio
Relative air density
Equipment
One CR2032 lithium battery (non-rechargeable).
Series
Prerogatives of the entire Kestrel Drop series
Drop detects weather data to display on your iOS or Android device.
It records continuous data that we can analyze at any time.
We can send him on a "mission" and on his return analyze the data collected.
Robust (MIL-STD-810G), precise, waterproof (IPx7) and as small as a key ring.
Stores on a programmable interval between 2 seconds and 12 hours.
Displays historical or real-time weather data.
Data display in both numerical and graphic format.
Data can be exported to CSV text or delimited paragraph.
The App can be downloaded free of charge from the Apple Store.
The App allows you to share your findings via email or social networks.
The app can monitor up to 8 drops simultaneously and store data from many more drives.
Connection via Bluetooth Low Energy, range 30 mt.
It is powered by a supplied CR2032 lithium battery.
The average battery life is over 6 months and varies depending on the type of use.
Operating temperature between -20C° and 55C°.
Maximum temperature error 0.5 C° (between 10 and 55 C°), humidity +/- 2%.
Each unit comes with a calibration certificate.
It is compatible with iOS 6 and IPhone 4S, iPad 3 or iPod 5 or later versions/generations.
It is compatible with Android systems version 4.3 or later.
Weight 34 gr - Dimensions 60 x 45 x 23 mm.