CruzPro D110: Digital fishfinder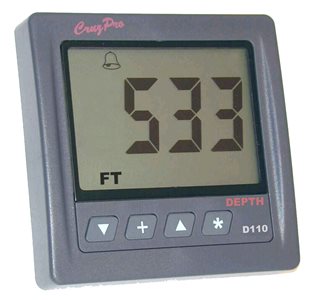 CruzPro D110 fishfinder, DSP (Digital Signal Processing) technology, Depth; 300 Mt, shallow and deep alarm, keel offset, NMEA Output.
Description
The CruzPro D110 is an fishfinder that uses DSP (Digital Signal Processing) technology to detect the bottom from a minimum of 0.4 Mt up to 300 Mt. You can adjust various update times of the bottom reading to display the depth more steadily.
Complete with all the common functions of a depth gauge such as shallow and shallow water alarms and keel offset to calibrate the depth at which the transducer is installed. You can choose from 5 levels of backlighting that can also be turned off or on remotely. All adjustments and settings are stored in a permanent memory.
Units of measurement selectable from meters, feet or arms. NMEA 0183 output or external alarm output. Power supply 12 Vdc.
Technical characteristics
Operating voltage: 9.5 - 16 Vdc
Display: 4 digits, 5 levels of backlighting
Absorption: 0.035 Amps nominal
Operating temperature: 0° to 50 °C
Data displayed: Depth, shallow and shallow alarms, Offset keel, readings in feet, meters and arms
NMEA 0183 serial output at 4800 bps, ($SDDPT) Also programmable as external alarm output
Alarm: Integrated by 85 dB
Dimensions: 110x110 mm
Built-in hole 55 mm
Prices
120-5010

CruzPro D110 Depth sounder - without transducer.

411,00

€

Weight:

0.4

kg; Dimensions:

13

x

13

x

16

cm

120-5020

CruzPro D110 Echo-sounder - Transd. Stern

537,00

€

Weight:

1.5

kg; Dimensions:

20

x

20

x

22

cm

120-5030

CruzPro D110 Echo-sounder - Transd. Feed-through

561,00

€

Weight:

1.5

kg; Dimensions:

20

x

20

x

22

cm
Prices include VAT
Equipment
Bolts
Bracket for recessed installation
Accessories
Prices include VAT
Series
Highly reliable, wide-screen, clear motorboat instrument series for easy reading of data from a distance. They are equipped with NMEA 0183 output so that the detected information can also be transmitted to other instruments or systems.
The construction is elegant and suitable to better decorate the consoles of the boats.
The instruments are all 110 x 110 mm in size, require a 54 mm diameter recessed hole, "non-volatile" memory and five levels of backlighting.