CH55 CruzPro: Chain counter for winch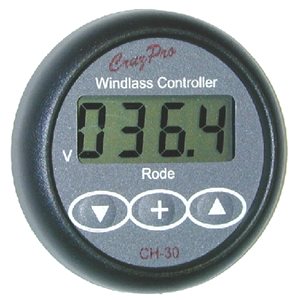 Electronic chain counter for CruzPro CH55 winch, displays the meters of ground chain and motor voltage, 12 and 24 Vdc power supply.
Description
The CruzPro CH55 displays the meters of ground chain in meters, feet or arms. It can display the battery voltage at the winch even while it is in operation.
All calibrations are included in the production phase, but can be modified according to your specific needs. All information is automatically stored in non-volatile memory.
The CH55 only absorbs 0.017 amperes and 5 levels of backlighting (including OFF) can be selected for correct viewing. Power supply 12/24 Vdc.
Technical characteristics
Power supply voltage: 6.5 - 33 Vdc
Display: 4 digits, 5 levels of backlighting
Power consumption: 0.018 Amps nominal
Operating temperature: 0 to 50 °C (32 to 122 °F)
Functions: Meters ground chain; Winch battery voltage
Built-in hole: 55 mm
Prices
120-3244

CruzPro CH55 Chain counter with Volmeter

357,00

€

Weight:

0.2

kg; Dimensions:

11.5

x

7.5

x

6.5

cm
Prices include VAT
Equipment
Chain sensor supplied
Bolts
Bracket for recessed installation
Series
It is the most complete series in the CruzPro range. It is appreciated for its small size, which allows it to be installed on even the smallest boats.
They all have 5 levels of backlighting. The outer diameter is 6.3 mm, while the recessed hole is 55 mm.