CruzPro: CH30 Chain counter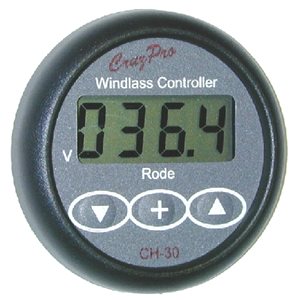 Discontinued
Intelligent chain counter for CruzPro CH30 winch, self-loosening function, ideal to set sail and leave the anchor at the desired length.
Description
Unlike the CH55, the CruzPro CH30 is a real computer available to the winch. Displays the meters of ground chain and battery voltage at the winch. It can be programmed to automatically slow down the ascent of the anchor when only 1.5 Mt of chain remains, thus avoiding abrupt blows to the delphinarium.
The self-loosening function allows you to reduce the speed of pull in proportion to the length of the remaining chain. It can automatically release the chain and stop at the desired length. If the chain goes out of place, the CH-30 immediately locks the winch. Each time the anchor is sailed it can be programmed to go back a few meshes to relieve the tension at the winch. NMEA 0183 output or external alarm output. Power supply 12/24 Vdc.
Technical characteristics
Power supply voltage: 6.5 - 33 Vdc
Display: 4 digits, 5 levels of backlighting
Power consumption: 0.018 Amps nominal
Operating temperature: 0 to 50 °C (32 to 122 °F)
Functions: Meters ground chain; Winch battery voltage; Self-loosening
Built-in hole: 55 mm
Prices
120-3250

CruzPro CH30 Chain Counter and Optimizer

453,00

€
Prices include VAT
Equipment
Bolts
Chain sensor
Bracket for recessed installation
Series
It is the most complete series in the CruzPro range. It is appreciated for its small size, which allows it to be installed on even the smallest boats.
They all have 5 levels of backlighting. The outer diameter is 6.3 mm, while the recessed hole is 55 mm.