Autonautic C12-110: 85 mm recessed bushings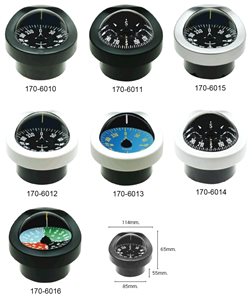 The C12-110 is a series of recessed compasses for small and medium boats, with a choice of reading type, pink and case colour.
Description
From the small size is a recessed compass indicated to be installed on boats with lengths ranging from 5 meters to 12 meters to Motor. Equipped with an 85 mm rose, it allows a good reading without cluttering on the small consoles.
Available with both Flat Pink and Spherical Pink, both models are also produced with Black or White cases.
The particular model with flat pink in blue is distinguished by the greater aesthetic value and facilitates the reading of data during the day thanks to the contrast of colors inside the rose.
All models are equipped with 12 - 24 Vdc backlighting.
Prices
170-6010

Autonautic 0010 Ø85mm, Recessed, R.Piana, Black

106,00

€

Weight:

1

kg; Dimensions:

21

x

21

x

12.5

cm

170-6011

Autonautic 0011 Ø85mm, Recessed, R.Sfer., Black

106,00

€

Weight:

1

kg; Dimensions:

21

x

21

x

12.5

cm

170-6012

Autonautic 0012 Ø85mm, Recessed, R.Piana, White

106,00

€

Weight:

1

kg; Dimensions:

21

x

21

x

12.5

cm

170-6013

Autonautic 0013 Ø85mm, Recessed, R.Az.Piana, White

106,00

€

Weight:

1

kg; Dimensions:

21

x

21

x

12.5

cm

170-6014

Autonautic 0014 Ø85mm, Recessed, R.Sfer., White

106,00

€

Weight:

1

kg; Dimensions:

21

x

21

x

12.5

cm

170-6015

Autonautic 0015 Ø85mm, Recessed, R.Piana, Silver

106,00

€

Weight:

1

kg; Dimensions:

21

x

21

x

12.5

cm

170-6016

Autonautic 0016 Ø85mm, Recessed, R.4c.Piana, Black

106,00

€

Weight:

1

kg; Dimensions:

21

x

21

x

12.5

cm
Prices include VAT