Bad Elf BE-GPS-1000 the best GPS for iPhone and iPad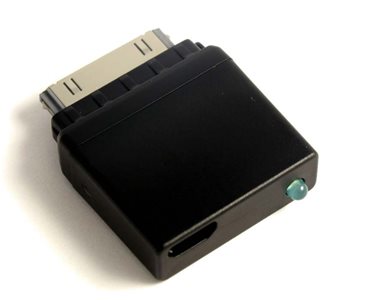 Discontinued
Connect your iPhone and iPad with dock connector to the GPS Bad Elf BE-GPS-1000, a powerful GPS to make navigation more exciting and safe.
Description
The Bad Elf BE-GPS-1000 is the best-selling "Apple approved" GPS accessory. It is a specific GPS for iPad, iPhone or iPod touch with Apple Dock 30 pin connector, able to better adapt your Apple device to the needs of navigation, thanks to a high performance GPS receiver and low power consumption.
In particular, all Apple devices with 30-pin connector in the "Wifi Only" version have the ability to fix the position only through the telephone repeaters which is absolutely ineffective for navigation needs, so the Bad Elf BE-GPS-1000 will make these devices perfectly suitable for use as a nautical GPS.
The Bad Elf BE-GPS-1000 is really small in size (33mm x 27mm x 10mm) and the connection to the Apple device is quick and easy. The GPS will be powered directly from the device that will remain connected or rechargeable via micro USB socket that comes out on the back of the BE-GPS-1000. A green LED will confirm that the GPS is receiving correctly.
The Bad Elf BE-GPS-1000 comes with an app to monitor the status of GPS reception and for basic navigation capabilities. It is however compatible with all the best navigation apps available today and at this link have been categorized the best: App by category on the official website Bad Elf
The GPS works with a 66-channel receiver, has an accuracy of up to 2.5 m and is equipped with SBAS/WAAS/EGNOS/MSAS position correctors.
Compatibility
iPad 3, iPad 2, iPad
iPhone 4S, iPhone 4, iPhone 3GS, iPhone 3G, iPhone
iPod touch 1, 2, 3 and 4
Prices
370-1000

Bad Elf BE-GPS-1000 - 30-pin iPhone/iPad connector

135,00

€

GTIN13:

0793573991850

; Weight:

0.1

kg; Dimensions:

10.4

x

2.2

x

13

cm
Prices include VAT
Prerogative
Converts your Apple device with 30-pin connector into a powerful GPS.
Does not require a separate power supply.
Enables the device to be charged even when it is connected.
66 channel receiver.
Accuracy up to 2,5 mt.
SBAS/WAAS/EGNOS/MSAS position corrector.
Compatible with all the best navigation apps.
Equipment
1 mt. cable for power supply with micro-USB connector and disconnectable transport strap.