Boss Marine B64ABT powerful stereo system at waketower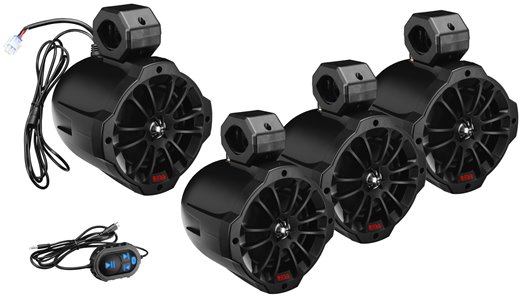 The B64ABT Boss Marine includes a Bluetooth connection, an amplifier and 4 waketowers to create a complete, high-end stereo system.
Description
If you want to equip your boat with a powerful and excellent quality system, the Boss Marine B64ABT is an option to be seriously considered.
It is equipped with 4 waketowers that together are able to release 1500 watts (peak), therefore suitable to meet the most demanding needs.
The B64ABT Boss Marine is a complete stereo system that integrates a powerful amplifier and includes 2 pairs of powerful waketowers (4 speakers in total) capable of delivering 1500 Watts (peak). The connection is made via Bluetooth, so that we can send any desired track from our mobile phone.
The only need is to have a suitable tube on our boat where to tighten the 4 waketowers, which are normally placed on the rollbar or on any robust structure with a round section. The installation is therefore particularly easy and we will only have to pay attention to the wiring inside the rollbar and the housing of the controller.
The controller is the device that takes care of the Bluetooth connection and has soft keys and backlighting. We will have to install it in an easily accessible location, as it allows you to adjust the volume, scan tracks and turn the system off or on.
Prices
240-3726

Boss Marine B64ABT- 2 Pairs Waketower BT 1500W

915,00

€

GTIN13:

0791489124638

; Weight:

15

kg; Dimensions:

56

x

53

x

30

cm
Prices include VAT
Prerogative
Equipped with its own class "D" amplifier.
1500 W peak.
AUX input.
Frequency response 65Hz - 20 KHz.
152 mm woofer.
Dimensions 224 x 216 x 248 mm.
Suitable for pipes with a diameter of 38 to 76 mm.
Equipment
4 waketowers, bluetooth controller, bulkhead relay for controller, steel safety cables and mounting accessories.