Exposure Action 9 Search Portable Searchlight by Search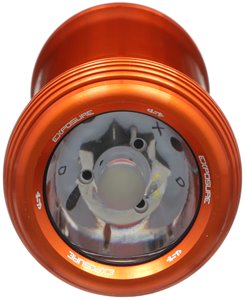 Exposure Lights' Action 9 Search is an advanced searchlight optimized for searching at sea, with a beam of 9 degrees and a brightness of 1000 lumens.
Description
Action 9 Search is a portable searchlight optimized for searching and detecting objects at sea.
The powerful beam of 1000 lumens, through a collimated lens, is channeled over the narrow angle of 9 degrees to slit and see objects up to a distance of 315 meters.
We could then use Action 9 for any kind of search or navigation to make sure of the distance from obstacles, shallows or wrecks.
The Action 9 is made of sturdy aluminium and the construction is so strong that it is waterproof to a depth of 100 metres.
It can be easily recharged from a USB socket and has a led that indicates the state of charge of the battery.
Like all Exposure Lights headlights and torches, it is equipped with an accidental on/off system to avoid being inadvertently dazzled or the light switching off just when it is needed. In fact, to turn it on you need to double press the button, while to turn it off you need to press and hold the button for 2 seconds.
Prices
038-0210

Exposure Action 9 Search - Lighthouse x Search 1000 Lm

279,00

€

GTIN13:

5060369152081

; Weight:

0.4

kg; Dimensions:

29

x

20

x

9

cm
Prices include VAT
Prerogative
Lighthouse optimized for research and detection of obstacles at sea.
Beam concentrated on an angle of 9 degrees.
1000 Lumen
Made of thick and sturdy aluminium.
Waterproof up to 100 mt. depth.
Active thermal control with self-adjusting brightness.
Battery charge status indication.
3 lighting levels: 1000, 500 and 250 lumens.
16 hours of autonomy at minimum intensity, 4 hours at maximum.
Charges in 9 hours from a USB port.
Lifetime warranty for LEDs, two years for the rest.
Dimensions 118 x 47 mm.
Weight 242 grams.