Headlight 12926: Engine Oil Pressure Indicator Euro Series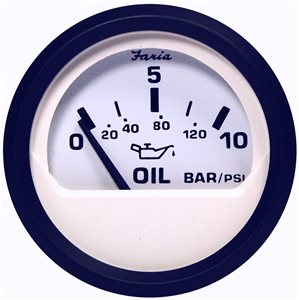 Light engine oil pressure indicator, Euro White series, model 12926, black ring nut, graduated scale in Bar and Psi, for boats.
Description
Faria model 12926 of the Euro White series for boats. Engine oil pressure indicator with analog reading 0-10 Bar. It works with transmitters art. 90515 or 90526, to be mounted on the motor through adapters art. 90604, 90605 or 90606.
Requires a 53 mm recess hole. Equipped with backlighting with 12 Vdc power supply.
Prices
126-4926

Euro W airship. Oil Pressure Indicator 0-10 bar

41,00

€

GTIN13:

0759266129269

; Weight:

0.1

kg; Dimensions:

11.8

x

9.3

x

10.8

cm
Prices include VAT
Accessories
Prices include VAT
Series
The Faria Euro White series of bulkhead instruments stands out for its elegance, robustness, reliability and originality. They are made with white dial, contour and black graphics, making it particularly easy to read and modern design. These features make the series compatible with the design of modern and fast boats.
The tachometer, speedometer and synchroniser require a 85 mm recess hole. All other instruments require a 53 mm hole. Equipped with backlighting with 12 Vdc power supply.