90604 Light Adapter: For Ø1/8" sensor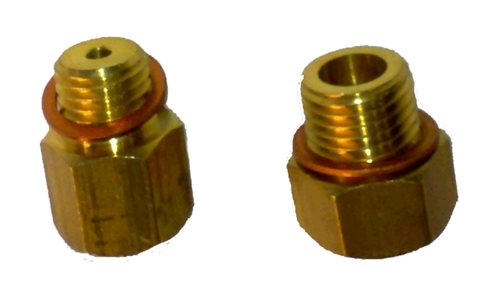 Faria screw adapter, model 90604, for pressure and temperature sensors Ø1/8", to be installed on the dedicated housing on the motor.
Description
Faria adapter, model 90604, for water or oil temperature sensor and oil pressure bulb, to be fixed directly on the engine when the connection has threads of M10 x 1 & M12 x 1.
The thread at the other end must be fixed on the temperature/pressure sensor and is Ø 1/8", therefore compatible with the temperature sensor art. 90412 and pressure sensor art. 90515 and 90526.
Prices
127-0984

M10 x 1 & M12 x 1 adapter for Transmitter 1/8"

13,00

€

GTIN13:

0759266906044

; Weight:

0.1

kg; Dimensions:

10

x

5

x

2

cm
Prices include VAT
Accessory Compatible With
Prices include VAT