CruzPro V60: Digital voltmeter for 3 battery banks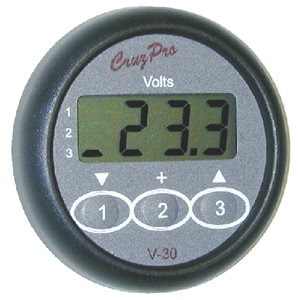 Digital voltage indicator CruzPro V60, for 3 battery banks, alarm for each battery, 5 levels of backlighting, NMEA 0183 output.
Description
The CruzPro V60 is a digital reading voltmeter capable of displaying the voltage from 9.5 to 33 VDC of 3 different battery groups. It is possible to set independent high and low voltage alarms for each battery group and if the reading leaves these values the V60 will emit an alarm at 85 dB while the display will flash. 5 levels of backlight can be selected. Each setting will be stored in a non-volatile memory. Power supply 12/24 Vdc. Output NMEA 0183.
All calibrations are set by the parent company, but can be changed by the user at any time. Low/high voltage alarms can be set independently and can be activated or deactivated at the touch of a button.
Technical characteristics
Power supply voltage: 9.5 - 33 Vdc
Power consumption: 0.018 Amps nominal
Display: 3 digits, 5 levels of backlighting
Data displayed: Volt, low and high voltage alarm
Reading range: 9.5 - 33.0 Vdc
NMEA 0183 serial output at 4800 bps (Judgment $IIXDR,V)
Alarm: Integrated 85 dB, Adjustable as minimum and/or maximum voltage
Built-in hole: 55 mm
Prices
120-3130

CruzPro V60 Voltmeter for 3 Groups

250,00

€

Weight:

0.2

kg; Dimensions:

14

x

11.3

x

15.5

cm
Prices include VAT
Equipment
Bolts
Bracket for recessed installation
Series
It is the most complete series in the CruzPro range. It is appreciated for its small size, which allows it to be installed on even the smallest boats.
They all have 5 levels of backlighting. The outer diameter is 6.3 mm, while the recessed hole is 55 mm.