Autonautic thermometer T95 series Atlantic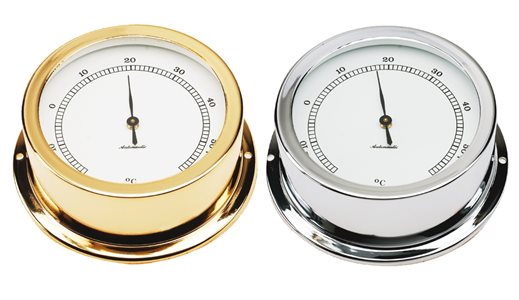 Autonautic T95, Atlantic 95 series, Thermometer with brass or aluminium finish, graduated in degrees centigrade, White background.
Description
Atlantic 95 series thermometer, graduated in degrees Celsius. Like all Autonautic weather instruments, they are designed and built in Spain with high quality materials.
Base Ø 95 mm, Height 35 mm, Front Ø 70 mm
Available in two finishes, one in brass and the other in aluminium.
Prices
180-0230

Autonautic T95D Temperature - Brass

54,00

€

Weight:

0.3

kg; Dimensions:

11.2

x

11.2

x

7.8

cm

180-0270

Autonautic T95C Temperature - Aluminium

54,00

€

Weight:

0.3

kg; Dimensions:

11.2

x

11.2

x

7.8

cm
Prices include VAT
Series
Weather instruments and marine watches of high precision and elegance, produced and manufactured entirely in Spain by Autonautic.
They are made of high quality galvanized brass or aluminium and designed by an expert staff within Autonautic to give an exclusive aesthetic approach.
The golden units are hand-polished and finished by mixing two particular components in an oven to offer a high resistance to salt.