Scout Sea-Connect Multi-band marine antenna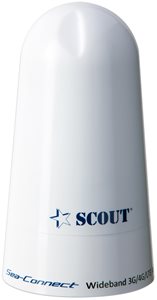 The Scout Sea-Connect is a multiband marine antenna for better reception of mobile phone signals and WiFi.
Description
The Scout Sea-Connect is a multiband marine antenna that meets the growing demand to improve the coverage of mobile phone signals or WiFi on the boat, with a gain of 4 dBi.
In fact, the Sea-Connect is able to interact with frequencies between 698-2700 MHz (multiband), so as to give greater coverage for signals from the protocols 4G, 3G, AWS, LTE, CLR, DCS, IMT, ISM, PCS, WCDMA, WCS, WiFi, WiMax, Cellular.
A particular optimization has been adopted for the reception of 3G and 4G signals, where WSMR values below 1.5:1 have been reached.
The design is elegant and small in size with a diameter of only 11 cm and a height of 20 cm.
The Sea-Connect comes out with an N connector on which you will have to connect a coaxial cable to bring up to a router and then propagate the signal throughout the boat. So for example, if we are interested in the 3G/4G signal, we will have to buy separately a 3G/4G router with SIM and with input for external antenna, which will take care of spreading the Internet connection via WiFi or Ethernet cable.
It can be installed on a flat surface directly with its base that includes two holes for screwing, or you can use the base Scout PA-40 using the attachment of 1 x 14 threads.
Prices
130-3400

Scout Sea-Connect - Mobile phone antenna

134,00

€

GTIN13:

8052990120413

; Weight:

0.7

kg; Dimensions:

23

x

11.5

x

11.5

cm
Prices include VAT
Prerogative
Multiband antenna from 698 to 2700 MHz
4 dBi gain
Excellent performance on 3G and 4G
Compact (11 x 20 cm) and marinized construction