CruzPro SAR20: Charge controller for alternator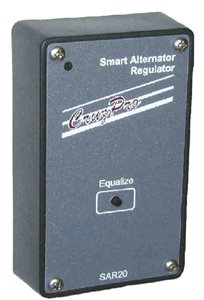 CruzPro SAR20 alternator charge controller, suitable for alternators up to 160A, optimizes the charge, prevents overcharging of the batteries.
Description
The CruzPro SAR20 is a charge controller widely used to replace the fixed voltage regulator supplied with the motor, thus increasing charging performance and avoiding battery overcharging by monitoring both voltage and temperature.
It optimizes the charge through an intelligent regulator able to operate on 4 different processes (intensive, absorption, maintenance and equalisation) depending on the state of the batteries and loads. A led is able to show which of the four processes the controller is currently using. Suitable for alternators up to 160 A.
Technical characteristics
Power supply voltage: 9.5 to 30 Vdc
Absorption: 0.02 Amps nominal
Operating Temperature: 0 °C to 50 °C (32 °F to 122 °F)
Flashing Notification LED: One/sec intensive, Two/sec absorption, Three/sec maintenance, Continuous equalisation
Temperature compensation: Equipped with a sensor for monitoring the temperature during the 4 processes
Dimensions: 100 x 60 x 30 mm
Prices
114-8010

CruzPro SAR20 - Alternator Charge Regulator

448,00

€

Weight:

0.2

kg; Dimensions:

22

x

10

x

7

cm
Prices include VAT
Equipment
The temperature sensor for the batteries is included.
Series
A series of original and useful tools contained in a box that is also suitable for installation in the engine room.