Road Navigator Snooper S5000 Truckmate Pro EU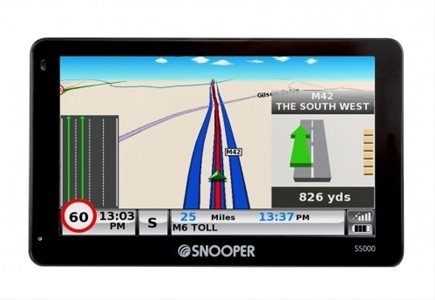 Discontinued
Snooper S5000 Truckmate Pro EU warns of low bridges, bottlenecks and provides road instructions using AURA data.
Description
Satellite navigation system designed for heavy vehicles.

It alerts you to low bridges, bottlenecks and gives you "curve by curve" vocal instructions.

The S5000 includes over 1000 specific points of interest for heavy vehicles, such as parking areas and service stations.

Use the international AURA database.
Aura is a leader in search technology for both fixed and mobile speed cameras.
Behind this project there is a team that works daily with high-tech tools, so that each new speed camera can be entered into the database within 48 hours.

The database also provides you with all speed limits, so you will always be informed about the maximum permitted speed of the road you are driving.

The Multiple Routes feature allows you to set up to 16 intermediate routes, for example you can make multiple stages before reaching your final destination.

Bluetooth hands-free technology is standard.
Prices
600-2314

Snooper S5000 Truckmate Pro EU

453,00

€

Weight:

2

kg; Dimensions:

29.8

x

18.5

x

9

cm
Prices include VAT
Prerogative
Truckmate Technology
Aura technology speed cameras
Multiple Itinerary Planning
LCD 5" Touchscreen
Bluetooth Handsfree Technology
Integrated Rechargeable Battery
TMC Traffic Technology