Autonatic Nautical Watch R120D with radio silence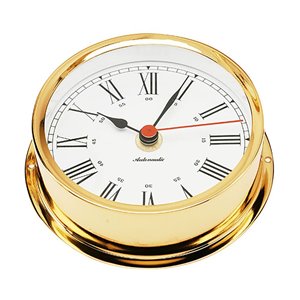 Autonautic R120D Pacific series is a brass nautical watch equipped with radio silence bands, base 120 mm, height 35 mm.
Description
Clock of great aesthetic value thanks to the hand-finished brass chrome plating that is well suited to the style of many boats or for nautical furniture.
The base measures 120 mm, has a height of 35 mm and the front of 95 mm.
The watch features bands for radio silence important in radio communications. Radio silence is a period of time included in the first 3 minutes of every half hour, i.e. from minute 0 to minute 3 and from minute 30 to minute 33, in which the navigator must respect the total silence transmitted on channel 16, to leave room for emergency communications.
Prices
180-0310

Autonautic R120D Brass Clock (Silenzio Radio)

88,00

€

Weight:

1

kg; Dimensions:

21.3

x

21.3

x

12

cm
Prices include VAT