"MRANT12 Boss Marine: FM/AM rod antenna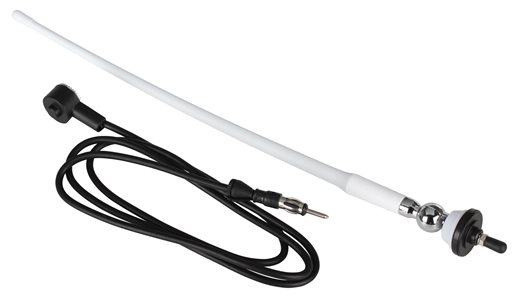 The MRANT12 is a small, easy-to-install FM/AM rod antenna.
Description
FM/AM rubber rod antenna, 40 cm high with 120 cm cable. Resistant to the marine environment and suitable for installation on small boats or inflatable boats, in fact, its small size does not cause problems of space. Impedance 75 ohms.
Available in black or white.
Prices
240-3920

"MRANT12 Boss Marine, FM Antenna, Stylus - Black

11,00

€

GTIN13:

0791489310468

; Weight:

0.2

kg; Dimensions:

50.5

x

8.3

x

4.5

cm

240-3930

"MRANT12W Boss Marine, FM Antenna, Stylus - White

11,00

€

GTIN13:

0791489117609

; Weight:

0.2

kg; Dimensions:

50.5

x

8.3

x

4.5

cm
Prices include VAT