MR20PA Boss Marine Verbal Amplifier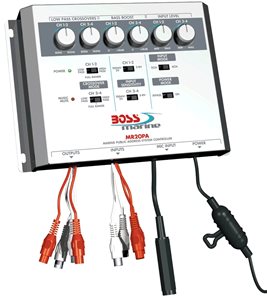 Discontinued
The MR20PA Boss Marine Verbal Amplifier System, allows you to talk through the sound system of the boat.
Description
If you already own an amplifier, you can equip it with a voice amplifier system by purchasing the MR20PA.
So you can talk through the sound system of the boat, ensuring audible listening to the entire crew of the boat and the ability to give warnings to boats in the vicinity.
When you press the button on the microphone, the audio source is turned off, so your voice comes out clearly from the speakers.
Prices
240-3570

Boss Marine MR20PA, Verbal Amplifier

199,00

€
Prices include VAT
Series
Models MR800, MR1000, MR1200 and MR1950
Features an original sealed door for efficient control panel protection.
They also use waterproof connectors that come out of the amplifier through sealed passages.
Bridge operation (Tri-mode)
Variable High and Low Pass Crossovers
Adjustable gain
Bass increase: 0 ? 18dB
Ignition and protection LED indicators
Adjustable input voltage sensitivity
MOSFET Power Supply