Boss Marine MC900B Bluetooth Amplifier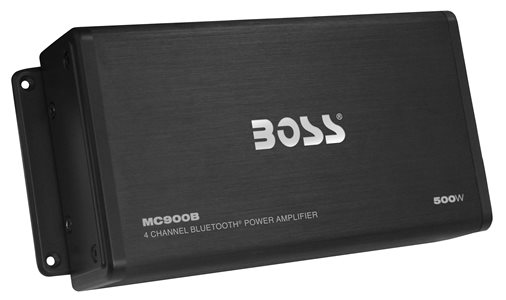 The MC900B Boss Marine is a Bluetooth amplifier that can connect directly to your smartphone and thus drive music from your app.
Description
Launch your favorite music app on your smartphone, the rest will be provided by the amplifier Boss Marine MC900B that will spread on your boat the audio detected via Bluetooth.
The MC900B Boss Marine is in fact an amplifier with integrated Bluetooth so it does not need a stereo in the console to drive the audio on your boat, with the advantage of not sacrificing valuable space in the console and avoid the cost of a stereo.
The MC900B Boss Marine includes a marinized keyboard that we can insert in another easily accessible place, so we have an additional command point to control our music.
The MC900B "Boss Marine", while expressing a total power 500 W (peak), remains contained in the dimensions (only 43 mm thick). It is equipped with AUX and USB ports (only for charging) and those who wish can take them up to the console, using the optional accessory MUSB35.
Prices
240-3496

Boss Marine MC900B Bluetooth Amplifier 125W x 4

282,00

€

GTIN13:

0791489100762

; Weight:

1.5

kg; Dimensions:

35.5

x

21.5

x

7.5

cm
Prices include VAT
Prerogative
Max total power 500 W - 125 W peak for 4 channels.
Keyboard for additional control point.
Pair of outputs Pre-Amp.
Dimensions 196 x 95 x 43 mm.
Equipment
Keyboard for on/off with volume and progress control.
Accessories
Prices include VAT