CruzPro GD55: Gas detector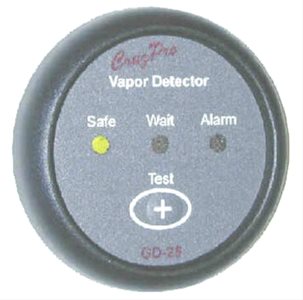 Discontinued
Gas detector GD55 CruzPro, such as petrol and diesel fuel vapours, remote sensor included, integrated alarm, built-in instrument.
Description
CruzPro GD55 Economical gas detector complete with remote sensor. The instrument is able to detect fuel vapours (both petrol and diesel) and sends an alarm when the vapours exceed 25% of the concentration required for an explosion. The alarm will continue to sound until the concentration level is dangerous.
Equipped with a self-test function. It is supplied with an external sensor with a diameter of 55 mm and 5 mt of cable. Able to operate with a power supply between 10.5 and 16.0 Vdc and absorbs only 0.012 Amperes.
Technical characteristics
Power supply voltage: 9.5 - 33 Vdc
Absorption: 0.012 Amps nominal
Sensitivity: Better than 25% LEL (Lower Explosive Level)
Operating temperature: 0 to 50°C (32 to 122°F)
Alarm: Integrated by 85 dB
Sensor: sensor for LPG, Diesel, Petrol with 5 mt cable
Built-in hole 55 mm
Prices
120-3210

CruzPro GD55 Gas Detector

166,00

€

Weight:

0.2

kg; Dimensions:

14

x

11.3

x

15.5

cm
Prices include VAT
Equipment
External sensor
Bolts
Bracket for recessed installation
Series
It is the most complete series in the CruzPro range. It is appreciated for its small size, which allows it to be installed on even the smallest boats.
They all have 5 levels of backlighting. The outer diameter is 6.3 mm, while the recessed hole is 55 mm.