GD20 CruzPro: Gas Detector LPG, petrol and naphtha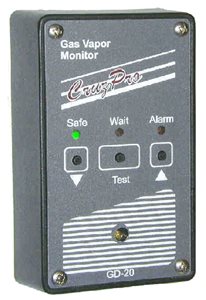 CruzPro GD20 Fuel vapour detector such as LPG, petrol and naphtha, external alarm and control for fuel solenoid, with remote sensor.
Description
The CruzPro GD20 is capable of detecting fuel vapours (both petrol and naphtha) with possible settings of 10%, 20% or 30% of the concentration required for an explosion. When the unit detects steam at the selected percentage, the 85 dB internal alarm is activated and the power to the fuel solenoid will be interrupted. The solenoid closure can be set manually or automatically. It also comes complete with a remote sensor and supports a second optional CruzPro GD27.
Technical characteristics
Power supply voltage: 9.5 to 33.0 Vdc
Sensitivity: 10%, 20% or 30% of LEL (Lower Explosive Level)
Operating temperature: 0 to 50 °C (32 to 122 °F)
Alarm: Integrated 85 dB alarm and external alarm output
Sensor: LPG, Diesel, Gasoline sensor with 3 m cable
Dimensions: 100 x 60 x 30 mm
Prices
034-8110

CruzPro GD20 - Gas Detector (3 LEDs)

322,00

€

Weight:

0.2

kg; Dimensions:

22

x

10

x

11

cm
Prices include VAT
Accessories
Prices include VAT
Series
A series of original and useful tools contained in a box that is also suitable for installation in the engine room.