Exposure Float-On Small Torch Torch with MOB Technology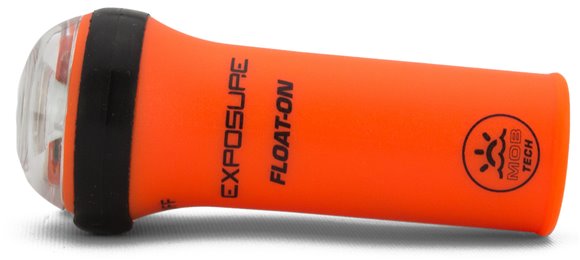 The Float On Torch is a small floating torch that automatically activates on contact with water to signal the presence of man at sea.
Description
The Exposure Lights Float-On Torch is a small floating torch (weighs only 45 grams!) with MOB technology, which means it can automatically activate the strobe in case of contact with water.
You can put it on the lifejacket, on a belt, in a pocket or just hold it in your hand.
When the flashlight is in contact with water, if MOB technology detects the contact for more than 6 seconds, the strobe starts flashing intermittently for one second, with a range of 24 hours and visible up to 3 miles away.
The torch is suitable for any routine operation on the boat, not being particularly bright, you can light it without any special precaution and without the risk of dazzling the rest of the crew. In fact, the Float-On Torch has a maximum brightness of 150 lumens, but can be reduced to 10 lumens to provide a very soft lighting but sufficient for any type of operation, especially when the view is adapted to the night conditions.
In addition, a courtesy LED makes it easier to find light in the dark.
Prices
038-0110

Exposure Float-On Torch - MOB Technology 120 Lumen

89,00

€

GTIN13:

5060369152890

; Weight:

0.15

kg; Dimensions:

15.7

x

12.7

x

5.1

cm
Prices include VAT
Prerogative
MOB technology with automatic strobe activation on contact with water.
Floating.
Waterproof.
LED courtesy light to track her down in the dark.
Battery charge status indication.
3 lighting levels (120, 50, 10 Lumen).
Quickly charge in 3 hours from a USB port.
Lanyard.
Lifetime warranty for LEDs, two years for the rest.
Dimensions 83 x 34 mm.
Weight 45 grams.
Equipment
USB cable and lanyard.