Micro LED Flashlight Exposure XS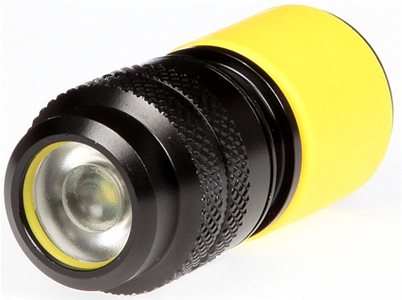 Discontinued
The Exposure XS is a micro torch able to withstand falls from 5 mt. and a depth of 50 mt. with an autonomy of up to 60 hours.
Description
The Exposure XS micro torch is a small light source with unexpected qualities.
Constructed of anodized aluminium to the usual high standards of Exposure Light, the XS micro torch is so robust that it can withstand falls from a height of 5 m and can be submerged to a depth of 50 metres.
The small size not only allows you to monitor the smaller compartments, make it an object that can be placed in any pocket or small space, or we can easily hold it around the neck with its lace.
Every detail has been carefully designed, such as the yellow silicone band, designed specifically for better grip on the teeth and thus allow you to operate completely hands-free. If, on the other hand, we prefer to keep it on our head, just buy the headband separately.
A red lens is included in the scope of delivery, which makes it useful not to interfere with the natural adaptation of our eyesight to night vision.
The Exposure XS torch illuminates with an intensity of 50 lumens and with an autonomy of 60 hours in low light, making battery changes sporadic.
Prices
038-0300

Exposure XS - Multipurpose Torch - White Light

60,00

€

GTIN13:

5060276417266

; Weight:

0.1

kg; Dimensions:

15

x

9.5

x

4.5

cm
Prices include VAT
Prerogative
Extremely small and light.
60 hours of autonomy in low light.
It withstands up to a depth of 50 metres.
Made of sturdy aluminum to withstand falls from 5 meters.
Does not fear corrosive marine elements.
Red silicone lens included to preserve the adaptation of the view at night.
Yellow silicone band for a better grip on the teeth and facilitate its tracking.
Designed and built entirely in the UK to very high standards.
Weighing only 33 gr., diameter 22 mm and length 49 mm.
50 Lumen.
2 brightness levels.
Equipment
Dyneema® lanyard with high reflecting power, 2 CR123 non-rechargeable batteries and red silicone lens to preserve the adaptation of sight at night.
Accessories
Prices include VAT