CruzPro EFS10-12: Bilge pump controller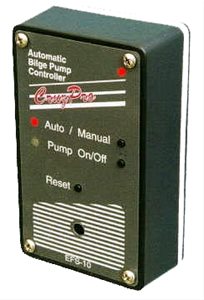 Discontinued
CruzPro EFS10-12 bilge water detector, automatically activates the bilge pump, sensor supplied, 12 Vdc power supply.
Description
If the sensor supplied with the CruzPro EFS10-12 detects water in the compartment where the instrument is installed, it automatically activates the bilge pump connected to it. If the water level does not return within 2 minutes, an audible alarm is also activated and can be reset manually. Power supply 12 Vdc.
Prices
120-8220

CruzPro EFS10/12 - Controller for Sentine Pumps

160,00

€
Prices include VAT
Series
A series of original and useful tools contained in a box that is also suitable for installation in the engine room.