Autonautic ED: Thermometer and Clock framed on wood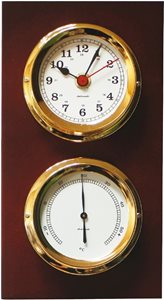 Thermometer and watch with Autonautic brass ED finish, framed on a wooden top of 265 x 130 mm.
Description
The Autonautic ED frames a thermometer and a clock on a wooden surface.
The wooden board measures 265 mm high, 130 mm wide and 10 mm thick.
Prices
180-0720

Autonautic ED Rack Clock/Termometer

137,00

€

Weight:

1

kg; Dimensions:

36

x

20

x

8.5

cm
Prices include VAT
Series
Weather instruments and marine watches of high precision and elegance, produced and manufactured entirely in Spain by Autonautic.
They are made of high quality galvanized brass or aluminium and designed by an expert staff within Autonautic to give an exclusive aesthetic approach.
The golden units are hand-polished and finished by mixing two particular components in an oven to offer a high resistance to salt.