Fish weight and length gauge NorCross DS900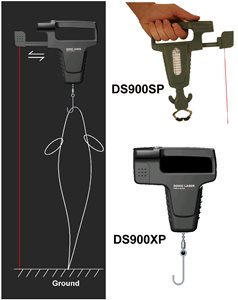 The Norcross DS900 allows you to measure fish size as well as weight and length, for everyday fishing and fishing competitions.
Description
These devices measure the weight of the fish and are able to measure the length of the fish using a laser beam. They are able to measure fish up to 45 Kg. of weight and up to 2,5 mt. of length. They are waterproof IPX7, selectable units of measure, size 65 x 157 mm, operate through 9 Vdc battery not supplied.
The difference between the two models is in the type of fish hook, the DS900SP has a hook, while the DS900XP has a clamp.
Features
Dimensions: 2.5? x 6.2? (65.5 x 157.4 mm)
Weight: 4 kg
Display: LCD 1.6? x 0.75? (40.64 x 19.05 mm)
Backlighting
Accuracy: +/- 3%
Weight range: 0.5 - 45 kg
Renge Length: 13 - 154 cm
Power supply: 9-Volt battery (not included)
Units of measure: Lb, Oz / CM, Kg
Waterproof: IPX 7
Prices
114-4110

Norcross HawkEye DS900SP Fish Weight/Length Measurement

106,00

€

GTIN13:

0818800900778

; Weight:

0.5

kg; Dimensions:

34

x

19

x

9

cm

114-4120

Norcross HawkEye DS900XP Fish Weight/Length Measurement

146,00

€

Weight:

0.5

kg; Dimensions:

34

x

19

x

9

cm
Prices include VAT