CruzPro DI30-8: Dimmer 8 A Brightness regulator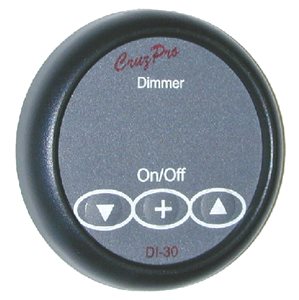 CruzPro DI30-8 electronic dimmer potentiometer, regulates the brightness; of incandescent lamps, up to 8 A, input for remote ignition.
Description
Dimmer for precise brightness control of incandescent lamps. This potentiometer, also called dimmer, allows you to adjust the lighting of the boat according to the needs of the user. It can also be used for small DC motors with a power consumption of up to 8 Ampere. The ON/OFF switch can remember the selected light level to return to the same light level.
Switching on can be controlled by a remote switch or by a twilight switch to switch the lights on and off at sunset and sunrise. The DI30 absorbs only 0.017 Ampere and is designed to operate continuously.
Technical characteristics
Power supply voltage: 9.5 - 33 Vdc
Absorption: 0.012 Amps nominal
Maximum current: 8 Ampere
Decrease or increase of intensity, ON/OFF
Input: for remote ON/OFF or optional twilight switch
Built-in hole: 55 mm
Prices
120-3230

CruzPro DI30/8 Dimmer 8 A. (potentiometer)

160,00

€

Weight:

0.2

kg; Dimensions:

14

x

11.3

x

15.5

cm
Prices include VAT
Equipment
Bolts
Bracket for recessed installation
Accessories
Prices include VAT
Series
It is the most complete series in the CruzPro range. It is appreciated for its small size, which allows it to be installed on even the smallest boats.
They all have 5 levels of backlighting. The outer diameter is 6.3 mm, while the recessed hole is 55 mm.