Sailing tactics for racegeek d10 racing strategy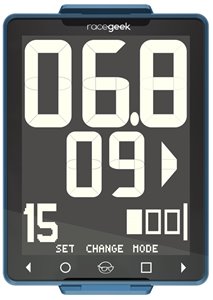 racegeek d10 is a tool for sailing boats and more precisely a racing tactician to refine your strategies at any stage or pace.
Description
The racegeek d10 is a sailing instrument and more specifically a racing tactician carefully designed to have the most appropriate measures for that specific moment of the race.
To be even more effective, the buoys and the position of the jury boat must be memorised in advance. So our racegeek d10 will be ready to give us all the most relevant information, even automatically.
In the pre-departure we will know the good side (buoy or jury), the distance to the line, the countdown, the speed and the direction of the bow. After the start we will enter the Performance mode where we will have the wind jumps indicator, the wind angle average, the heel angle, the speed and the heading. Then we will approach the first waypoint and enter Navigation mode to refine our approach with the help of the correction angle at the waypoint, the distance at the waypoint, the speed and the heading.
All these information are shown on a clear display with characters of 60 or 40 mm and therefore clearly visible to the entire crew.
All data is stored in the internal memory at a rate of 100 thousandths of a second. At the end of the race or training we can transfer them to the Cloud for post-analysis and if we want, we can also share them with other users.
It integrates a WiFi access point, a gyroscope / accelerometer / magnetometer and a GPS/GLONASS. Missing data such as wind data can be integrated via WiFi or cable, being equipped with all common interfaces, including the new Signal K. In addition, via WiFi we may transfer data to smartwatches, smartphones, tablets or notebooks to use other navigation apps or those that racegeek itself is developing.
Prices
118-5010

racegeek d10 - Racing tactics

1.336,00

€

GTIN13:

5391529870003

; Weight:

1

kg; Dimensions:

21.5

x

16

x

7.5

cm
Prices include VAT
Prerogative
Trained to display the numbers you need at that time.
Specific display modes, also automatic, for Pre-departure, Performance and Navigation.
Wide 60 or 40 mm characters
Via WiFi you can transfer data to other navigation apps (for smartwatch, smartphone, tablet or notebook).
10 saves all data per second in internal memory
Data storage on the Cloud for post-analysis and comparison with multiple users.
Integrated WiFi access point.
Integrated 9-axis gyroscope/accelerometer/magnetometer.
Integrated GPS/GLONASS
Anti-reflective protective glass in Corning® Gorilla®.
NMEA 0183 and Signal K interface via WiFi.
NMEA 0183 interface and Signal K via cable.
Dimensions: 190 x 136 x 24 mm.
Equipment
Quick release bracket and power/interface cable.