STEINER Commander Global Binoculars with Compass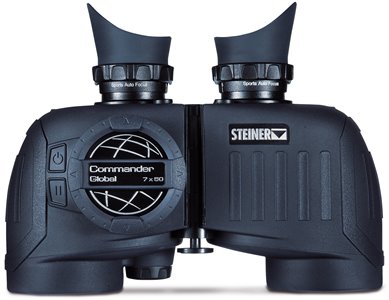 The STEINER Commander Global binoculars are the top of the range of this prestigious series and feature Diamond Marine coated lenses.
Description
The Commander Global, in addition to being an icon of those who go to sea, represents a true symbol as an object inscribed by time.
In the top model of the Commander line some solutions are further optimized, such as the coating of the lenses with the new Diamond Marine™ compound designed by STEINER. This solution is able to further increase the contrast, brightness and brightness of the images so that observations can be made even in low light conditions.
In 2013, the Commander Global was the first marine binoculars to integrate a compass for international use, i.e. capable of correcting magnetic offset around the globe.
The Commander Global offers a 30-year warranty (but not on electronic parts), is waterproof to a depth of 10 meters, is indestructible, and has a set of optical solutions that push it to such a level of quality that it can be designated in its own category.
Prices
050-4120

STEINER Commander Global

2.418,00

€
Prices VAT Included
Prerogative
Diamond Marine™ lens coating: special formula designed by Steiner to minimize glare. Increases clarity, contrast and brightness for observations even in low light conditions.
Makrolon® housing: extremely resistant polycarbonate with long-lasting NBR rubber for maximum lightness and robustness that can withstand an impact of up to 11G.
Steiner Nano-Protection®: molecular water-repellent, able to repel water and dust from lenses.
Sports-Auto Focus™: For images that are always in focus from 20 meters to infinity.
Memory Diopter: stores your personal focus settings.
N2 injection™: sealed with dry nitrogen injected at 14 psi pressure with 2-way valve technology. To counter fogging in any condition.
Floating prism system with flexible silicone for shock absorption.
Chemical coatings are applied in all air-glass passages to ensure that the passage of light is optimised, so that our eye can perceive greater contrast and brighter details even in low light.
Production process articulated on more than 400 phases that attest the rigorous quality.
Padded floating case: allows the binoculars to float and the bright yellow colour allows easy tracking.
ClicLoc®: allows you to hook or unhook the case immediately.
ErgoFlex Eye Pads.
Waterproof to a depth of 10 metres.
Warranty 30 years, 2 years on electronic parts.
Specifications
Weight: 1147 gr
Width: 206 mm.
Height: 157 mm.
Depth: 99 mm.
Output pupil: 7.1 mm
Brightness: 51,00
Twilight factor: 18.7.
Field of view at 1000 m: > 130 m
Operating temperature: from ?40 °C to +80 °C
Equipment
Bag, quick-connect ClicLoc neoprene carrying strap, rain hood and lens cap.