Chillbox CF3200 portable refrigerator for temperatures down to -30°C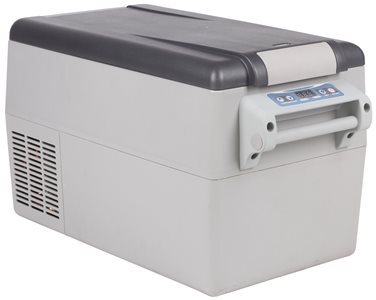 Discontinued
Snooper Ventura Chillbox CF3200 with compressor, cools down to -30°C, "Eco/Max" and "battery protection" functions.
Description
The Snooper Ventura Chillbox CF3200 is an advanced portable refrigerator freezer with compressor capable of cooling down to -30°C.
Inside there are two separate compartments, one for refrigerator use and the other as a freezer, each can be adjusted separately. The display clearly shows the temperature in use and it is particularly easy to change it.
The "Battery Protection" function, which can be set to 3 levels, allows the battery not to be discharged beyond a certain threshold, so as to prevent the batteries from being discharged to the point of no longer starting the engine.
The Snooper Ventura Chillbox CF3200 absorbs a maximum of 45 W and weighs 14 Kg.
Prices
390-2000

Snooper Ventura ChillBox CF3200 - Portable Fridge

561,00

€

GTIN13:

5019896320067

; Weight:

16

kg; Dimensions:

70

x

41

x

45

cm
Prices include VAT
Prerogative
Portable refrigerator and freezer with compressor for temperatures between 10°C and -30°C.
Status LED and display to display and set the temperature to the exact desired degree.
Equipped with 2 compartments (fridge/freezer) each one separately adjustable in temperature.
Eco/Max functionality to balance the absorption as needed.
Battery Protection" feature to prevent the battery from discharging beyond a threshold that can be set to 3 levels of intervention.
Internal capacity of 32 Lt.
Absorption up to 45W.
Weight 14 Kg., dimensions 630 x 360 x 370 mm.