CruzPro CC20: 8A Solar Panel Charge Controller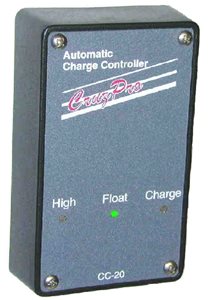 CruzPro CC20 charge controller for solar panels and wind generators up to 8A, with adjustable voltage for acid, gel or NiCd batteries.
Description
The CruzPro CC-20 automatically regulates the charging of batteries from sources such as solar panels or wind turbines up to 8A. This allows you to keep these accessories permanently connected without damaging the battery. This way, the on-board batteries will always be charged. The status of the regulator (charge, maintenance and no charge) is indicated by the 3 LEDs on the front panel.
The minimum and maximum voltage is factory set from 13.1 to 14.4 VDC. These values can be simply adjusted from 11.5 to 14.35 Vdc (Minimum Limits) and from 13.5 to 16.5 Vdc (Maximum Limits) to better fit acid, gel or NiCd batteries. The accuracy is +/- 0.05 Vdc and has an efficiency of 99.8% at 8A. It is also equipped with a user-adjustable overload LED and an external alarm output.
Technical characteristics
Power supply voltage: 9.5 to 21 Vdc (8A Max)
Absorption: 0.012 Amps nominal
Operating Temperature: 0 °C to 50 °C (32 °F to 122 °F)
Alarm: LED signaling and output for external alarm
Dimensions: 100 x 60 x 30 mm
Prices
114-8020

CruzPro CC20 - Charge Regulator 8 A.

143,00

€

Weight:

0.1

kg; Dimensions:

22

x

10

x

4

cm
Prices include VAT
Series
A series of original and useful tools contained in a box that is also suitable for installation in the engine room.