Autonautic C15-150: 100 mm recessed compasses with reduced box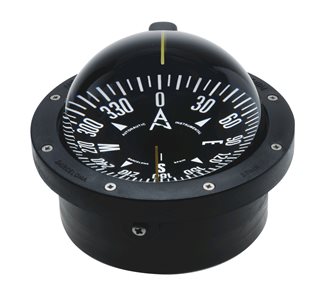 Discontinued
The C15-150 series has a small mortar for easy installation and is intended for medium and large boats.
Description
Compass suitable for boats with a length ranging from 5 meters to 13 meters to Motor or Sail. The 100 mm diameter of the Rose allows the reading of the degrees in an easy and safe way. Compass designed to be flush mounted so as to limit the problems of space and space on the console. Depending on your needs, it is available with both flat and spherical roses.
Also available is the model with flat pink in blue color that with the high contrast of the colors favors the reading of data in daylight hours. It comes with a protective cover to be inserted when the compass is not used.
All models are equipped with backlighting that can be supplied with a voltage of 12-24 Vdc.
Prices
170-6063

Autonautic 0063 Ø100mm, Recessed, R.Piana, Black

174,00

€

Weight:

1

kg; Dimensions:

21

x

21

x

12.5

cm

170-6064

Autonautic 0064 Ø100mm, Recessed, R.Sfer., Black

174,00

€

Weight:

1

kg; Dimensions:

21

x

21

x

12.5

cm

170-6065

Autonautic 0065 Ø100mm, Recessed, R.Az.Piana, Black

174,00

€

Weight:

1

kg; Dimensions:

21

x

21

x

12.5

cm
Prices include VAT