Autonautic C12: compasses on bracket with pink 85 mm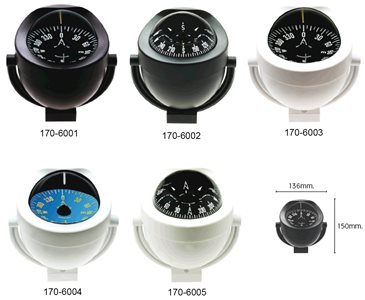 The Autonautic C12 presents a series of compasses on bracket that with a rose of 85 mm are oriented towards small and medium boats.
Description
Compass suitable for installation on both motor and sailing boats with a length ranging from 5 to 12 meters. With a Rosa 85 mm in diameter, it guarantees excellent visibility while maintaining a small footprint even on the smallest dashboard. Comes with a sturdy fixing bracket. It is available with flat or spherical pink and both models can be with black or white casing.
It is also available a model of greater aesthetic value, with flat pink blue, which with the high contrast of colors within the rose favors the reading of data in daylight hours.
All models are equipped with 12-24 Vdc backlighting.
Prices
170-6001

Autonautic 001 Ø85mm, On Bracket, R.Piana, Black

122,00

€

Weight:

1

kg; Dimensions:

21

x

21

x

12.5

cm

170-6002

Autonautic 002 Ø85mm, On Bracket, R.Sfer., Black

122,00

€

Weight:

1

kg; Dimensions:

21

x

21

x

12.5

cm

170-6003

Autonautic 003 Ø85mm, On Bracket, R.Piana, White

122,00

€

Weight:

1

kg; Dimensions:

21

x

21

x

12.5

cm

170-6004

Autonautic 004 Ø85mm, On Bracket, R.Az.Sfer.,White

122,00

€

Weight:

1

kg; Dimensions:

21

x

21

x

12.5

cm
Prices include VAT