AM3 Aquamate: Waterproof bag for marine VHF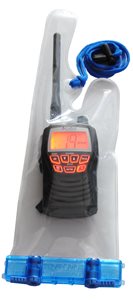 Discontinued
Waterproof boat bag for small AM3 Aquamate marine VHF, made of UV-resistant elastic material.
Description
Waterproof case AM3 Aquamate dedicated specifically to the protection of small portable marine VHF, with a maximum height of 310 mm. The special housing dedicated to the antenna allows to reduce the size of the housing without preventing the installation of the antenna itself. Dimensions 110 x 310 mm (Including antenna)
Prices
140-0030

AM3 - VHF Small - 110x310 mm.

22,00

€

Weight:

0.1

kg; Dimensions:

20.3

x

10.5

x

3.5

cm
Prices include VAT
Series
Material
Technology New generation of waterproof cases to protect all portable electronic instruments.
The AQUAMATES are in fact practically indestructible, if the material is put in traction, at the release, the case resumes exactly its shape. This is due to the use of an advanced plastic material (with a "memory") that is also unalterable by UV rays.
The AQUAMATE, in addition to protecting, allow access to delicate functions on equipment such as GPS, VHF and mobile phones, allowing you to speak normally through the case leaving virtually unchanged the audio quality of the instrument both in reception and transmission.
The closing of the AQUAMATE is completely hermetic, a prerogative that allows the instrument to float in the water.
Uses
Thanks to their prerogatives, AQUAMATES effectively protect against water, sand, dirt, sun and even spillage of drinks.
They are therefore widely used in pleasure boating, on the beach by the sea, in trekking and in the daily protection of any delicate instrument.
There are many models available depending on the instrument to be protected, for example, in the model for the camera, the optical window allows you to take pictures in the rain and helps for everyday protection against moisture.