NASA Engine 3: AIS receiver channels A and B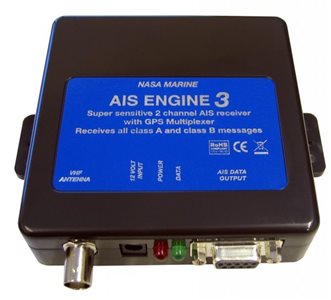 Discontinued
Receiver AIS Engine 3 NASA, equipped with a receiver for both AIS channels, can be interfaced via NMEA0183 to the Nautical GPS.
Description
Through this BlackBox the Plotters enabled to receive this data can display on the map the position of ships or boats equipped with AIS transmitter. This BlackBox is also equipped with its own software to perform its functions on PCs with operating sisterma Windows 95, 98, ME, XP, 2000 and NT.
The BlackBox is capable of receiving both AIS channels "A" and "B" and by default alternates reception on both channels. Can be interfaced with devices via NMEA0183 HS (38K baund).
Power supply 12 Vdc
Prices
030-2730

NASA Receiver AIS Black Box

282,00

€

GTIN13:

0609722871242

; Weight:

0.5

kg; Dimensions:

18

x

13

x

4

cm
Prices include VAT
Equipment
Power supply cable 12 Vdc
RS232 serial interface cable
Mounting accessories
Accessories
Prices include VAT