Snooper Air 22 TV for boat, camper and free time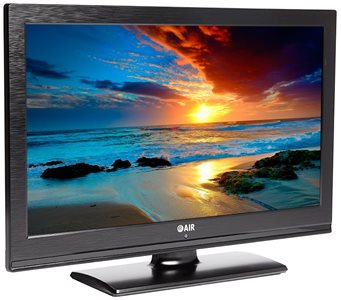 Discontinued
Snooper Air 22, marinized and vibration protected TV, low absorption, integrated DVD player, satellite TV input.
Description
Air 22 is Snooper's new LED TV, carefully designed for leisure and transport activities. It can be installed on a boat, on a camper, on a truck or simply transferred to the holiday destination, thanks to its small size and lightness.
The Snooper Air 22 TV is marinized and protected against vibration, so it will not have problems withstanding stress, humidity or salt on a boat, also its small size and its lightness help in finding an easy location.
The Snooper Air 22 TV is equipped with an extremely defined, bright and very compact 22-inch screen. Includes a tuner for digital terrestrial TV and a decoder for HD satellite TV. It also integrates a DVD player, 2 HDMI ports and 2 USB inputs for any player to view your movies. In addition, the USB port can also be used to store any TV program on an external hard disk or key.
The images are clear, bright and crystal clear, and the display has a surprising angle of view, so that you can watch TV without problems even from a very angled position. The display can reproduce with a maximum definition of 1920 x 1080 pixels, almost 5 times higher than that of common TVs, but automatically adapts to the definition of the TV broadcaster to always show the clearest possible images regardless of the definition of the source.
Despite its performance, Snooper Air TV consumes very little energy, on average 22 Watts (47 Watts when connected to satellite TV), which means that it will weigh very little on the batteries of the boat, motorhome or car.
The menu is very easy to use and allows you to easily scroll through the various functions from the first time you turn it on.
It measures 340 x 529 x 55 mm. and weighs 4.8 kg.
Prices
250-2220

Snooper Air 22 TV

537,00

€

GTIN13:

5019896223702

; Weight:

10

kg; Dimensions:

66.5

x

44

x

16

cm
Prices include VAT
Prerogative
Marinized (protected from humidity and salt).
Protected from vibration.
Definition 1920 x 1080 pixels.
22" display bright, defined, crystal clear and wide viewing angle.
Absorbs on average only 22 Watts (47 Watts with satellite TV).
Integrated DVD player.
2 x HDMI, 2 x USB, one satellite TV input, RGB and Scart.
Possibility to store TV programs.
Equipment
Infrared remote control.
Cable with cigarette lighter plug for 12 Vdc power supply.
220 Vac power supply.
2 stylus batteries for remote control.
Audio/video adapter 3 x RCA to 1 jack 3.5 mm.