Seiwa SWR-1: Radar Radome Antenna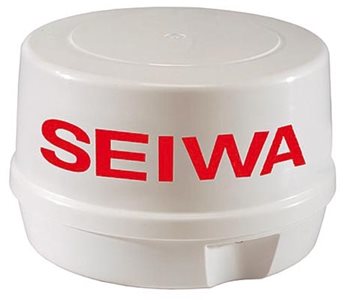 Discontinued
Seiwa Radar Radome Antenna model SWR-1, Horizontal Beam 7° and Vertical Beam 25°, Scales from 1/8 to 24 NM.
Description
Interfaceable with many of Seiwa's plotters, it allows you to integrate all the functions of a professional radar, with the help of these BlackBox.

The Radar Overlay display is widely used, where the radar screen is superimposed on the cartography, allowing an immediate comparison of the details coming from the two different technologies and thus limiting the risks of misinterpretation.
Technical characteristics
Prices
061-2500

Seiwa B.Box Radar SWR-1, 2Kw, Radome Ø 27,4 cm

1.952,00

€

Weight:

9

kg; Dimensions:

48

x

40

x

30

cm
Prices include VAT
Equipment
Multipolar shielded cable 10mt
Radar Junction Box
Installation template
Accessory Compatible With
Prices include VAT