MT-RM01 Second Station Microphone M-TECH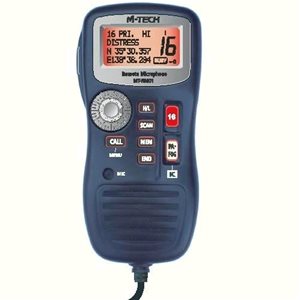 Discontinued
Mike remote MT-RM01 for VHF/DSC marine M-TECH MT-700, allows you to have a second station with all the features; VHF.
Description
The MT-RM01 is a remote Mike for the M-Tech MT-700 VHF/DSC. Allows you to use all the functions of the VHF including DSC, PA, Fog Siren and Intercom.
The large "Select/Ent" button allows easy channel and menu selection.
Comes with a 10 Mt. cable.
Prices
021-8701

MT-RM01 Remote Microphone for MT-700

272,00

€
Prices include VAT
Prerogative
Full functionality in DSC, PA, Fog Siren and Intercom functions.
Distress button with protective cover.
Key dedicated to PA and Fog functions.
DMD graphic display with coordinates display.
Wide "Select/Ent" button for "Channel/Menu" function
Output for external speaker
Watertightness according to JIS-7 standards
Equipment
Support
Connection cable 10 Mt
Accessory Compatible With
Prices include VAT