WaveSentinel RC01W: MOB system with motor shutdown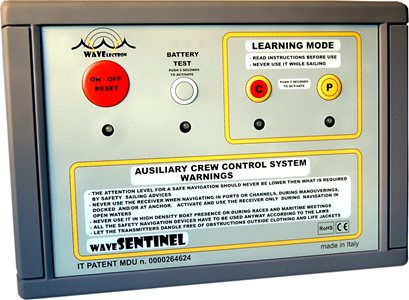 Discontinued
MOB RC01W WaveSentin the system to alert in case of man overboard with engine shutdown in case of fall into the sea of the captain.
Description
Auxiliary MOB control system that gives an audible warning in the event of a crew member falling into the sea and switches off the engine in a useful and original way in the event of the master falling into the sea.
The transmitters are small, aesthetically pleasing and can be worn in a few seconds by means of a practical lace. When the transmitter comes into contact with water, it sends a radio signal to the control unit that emits an acoustic signal of adequate intensity and, optionally, it will be possible to install an external siren.
The control unit is available in white and grey. Transmitters must be purchased separately, red for the captain, yellow for each crew member.
Warnings:
The WaveSentinel auxiliary crew control system is not to be considered as a safety system. It is the responsibility of the captain and crew to implement and comply with the instructions and safety procedures required by current legislation. Further information is specified in the user manual, which is always referred to and which you can download here in the download section.
Prices
034-6010

Wavelectron waveSentinel RC01W Receiver - White

382,00

€

Weight:

1

kg; Dimensions:

21.3

x

15.5

x

10

cm

034-6020

Wavelectron waveSentinel RC01G Receiver - Grey

382,00

€

Weight:

1

kg; Dimensions:

21.3

x

15.5

x

10

cm

034-6110

Wavelectron TR01R - Transm. x Commander - Red

79,00

€

Weight:

0.05

kg; Dimensions:

13.3

x

5.3

x

2.5

cm

034-6120

Wavelectron TR01Y - Transm. x Passenger - Yellow

79,00

€

Weight:

0.05

kg; Dimensions:

13.3

x

5.3

x

2.5

cm
Prices include VAT