WavElectron: waveBilgeSwitch Switch for bilge pumps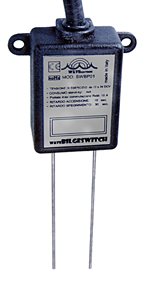 Discontinued
WavElectron Electronic automatic switch for waveBilgeSwitch bilge pumps with two adjustable level sensors.
Description
Electronic automatic switch for bilge pumps that stands out for having two sensors adjustable to the right level. In fact, the problem with the installation of common bilge switches is precisely that of the lack of level adjustment, which can cause 2 different problems:
If the pump starts too late, the water remains abundant in the bilge, stagnating and thus feeding the humidity level throughout the boat, especially in winter.
If the sensor is triggered below the level that the pump is able to empty, the continuous triggering of the pump will discharge the batteries in a few days, preventing the pump from triggering later and so will other safety systems on the boat.
The adjustment is made by means of two 10 cm long contacts, which can be cut to the desired height. Another distinctive feature is the absorption, virtually zero, in fact in standby mode (ie when the switch does not detect water) is only 0.01 mA.
TECHNICAL DATA
Sleep consumption: 0.01 mA
Relay output: 15A 30 Vdc max unprotected
Connection: via FROR 600/1000V 3X1.5 + 3x0.50 cable UV resistant black
Operating temperature: -10°C + 55°C
Degree of frontal protection: IP68
Trigger delay: 10 seconds
Switch-off delay time: 30 seconds
316L stainless steel contacts (Low Carbon)
Prices
114-7010

Wavelectron waveBilgeSwitch SWBP01

72,00

€

Weight:

0.5

kg; Dimensions:

21

x

19

x

3.5

cm
Prices include VAT