TV-FM Marina Antenna: Vision Plus Status 330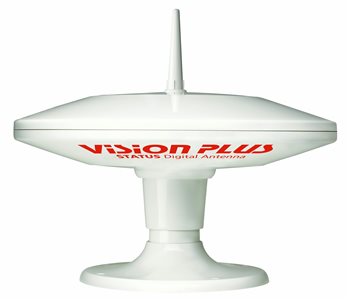 Discontinued
Vision Plus Status 330 TV/FM marine antenna with horizontal and vertical polarization, complete with signal amplifier with 3 TV outputs and one FM.
Description
The Status 330 is the latest model in the Status series optimised specifically for better reception of digital terrestrial channels. In fact, the Status 330 benefits from a new amplifier with 3 TV outputs and an FM, carefully optimized for the best performance of digital terrestrial.
The external design of the antenna has remained almost unchanged and always presents its exclusive central dipole to implement the vertical and horizontal polarization that have allowed this antenna to achieve enviable reception performance.
The construction material has been carefully selected to counteract the effects of the marine environment.
Can be installed directly on its base, or on a Ø 25 mm pipe
Features
Power supply 12 - 24 Vdc
UHF frequency range 470-860 MHz, FM 88-108 MHz
Amplifier gain 16 db
Gain control 15 dB
Noise factor 2.8 db
Output impedance 75 ohms
Output 95 dbuv
Absorption 55 mA
TV cable 2 meters
Dome antenna diameter 315 mm
Mounting of the base diameter 185 mm
Total height 280 mm
Height without pinnacle 180 mm
Amplifier 157 x 46 x 28 mm
Prices
130-8010

Vision Plus Status 330 TV/FM antenna - Cable 20 mt

195,00

€

GTIN13:

5029833420750

; Weight:

3

kg; Dimensions:

32

x

32

x

2

cm
Prices include VAT
Equipment
Antenna body.
Central pinnacle.
Tilting base.
Amplifier with 2 mt of electric cable.
Coaxial cable 20 mt low loss from antenna to amplifier.
2 mt of low loss coaxial cable from the amplifier to the system.
Screws.